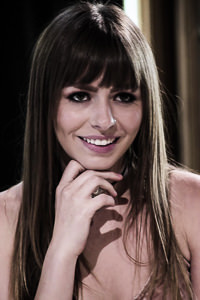 Alex Blake
Details
Height : 5'7"
Weight : 120
Eye Color : Green
Date of Birth : 1998-03-09
Zodiac : Pisces
Hobbies : Singing, writing, smoking/rolling fat blunts of course
Twitter : https://twitter.com/alexblake420
Alex Blake's Biography :
Alex Blake is a Pisces and jokingly says she was born in outer space. She says growing up where she did was tough. The people in the area were not well educated or financially stable. Her family was very rich artistically, philosophically and had musical backgrounds. She did come from a religious background as her maternal family was mostly of the Presbyterian Christian faith while her paternal side was mostly agnostic/atheist with a Catholic family history. Growing up she always had a sexual nature elaborating that she was always curious, outspoken, and willing to explore. Her three wildest non-sexual encounters were sitting at the foot of the hospital bed watching her little sister be born, the time she saved a girl's life when the girl had a seizure and hit her head and when she was almost eaten by a bobcat and her dog saved her. Prior to joining the adult industry, she entertained the idea of being a tattoo artist or a ghostwriter for a while. Due to her past experiences, she always wanted to help animals, children, and people. She also has a rather sentimental goal to release an album dedicated to her deceased father. She got her start in the business by looking online for opportunities to pose as a nude model for art classes and well as TV show castings. She ended up creating an add listing her interests when her, now-current, agency emailed me. She did her research and a few months later decided she wanted to try porn. Regarding her favorite movie she says "that's a really hard question considering there are so many masterpieces out there." Her favorites are Jaguar Paw, Cast away, Forest Gump, The Butterfly Effect, V for Vendetta, Gumo, The Hateful Eight, The Sandlot, The Breakfast Club, Blindness, The Happening, Chained, No Escape, The Wolf of Wall Street. She enjoys movies with a lot of depth and great acting. A fan of the horror/thriller genre, she says that the movies that were deemed scary didn't really scare her but the ones with a twisted psychological nature are the ones that really left an impression on her. Her top three preoccupations in life, when she's not on set, are researching and educating herself through podcasts and documentaries, taking care and spending time with loved ones and what she describes as "flowing" which is making music, art, modeling, writing, smoking, etc. The days' she's shooting for PureTaboo, she always makes sure to get up early as she looks forward to the work ahead. The scripts, the people and the energy of the environment. She loves how much creativity and detailed work they put into their productions. Working with them is always a pleasure and she's looking forward to discovering more about her acting capabilities on set. She feels that PureTaboo is exposing thoughts and fantasies people already have and detail. She adds that it's human nature to go down these mental rabbit holes and explore all things extreme. Asked if she's ever done something taboo, she says her entire life and existence is taboo.