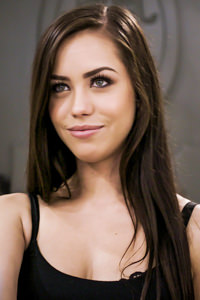 Alina Lopez
Details
Height : 5'6"
Weight : 124
Eye Color : Hazel
Date of Birth : 1995-09-06
Zodiac : Virgo
Hobbies : yoga, swimming, good conversation, watching old movies
Twitter : https://twitter.com/itsalinalopez
Alina Lopez's Biography :
Alina Lopez was born in Seattle, Washington and is a Virgo. She moved around a lot when she was growing up and the biggest portion of her childhood was spent in Phoenix, Arizona where she describes the weather as being "hot as hell". Growing up, she spent most of her time doing sports and getting into trouble. She came from a religious background being raised in a strict Mormon family despite never feeling like a member of the church. Alina has been a flirt since as long as she can remember and quickly developed a promiscuous reputation as a teen. Her three wildest non-sexual encounters were when a homeless person attack her car, When she went sky diving and when she witnessed a childbirth. Prior to joining the adult industry, she wanted to work with troubled youth and special needs teens. She had her fair share of tough times when she was younger and can relate. Regarding her start in the business, she was always intrigued by sex work and has been a really sexually open person. One day she decided to take the plunge and started looking for an agent. She found Spiegler and I was determined to work with him. While she can't pick a favorite movie, the first three that come to mind are To Kill a Mockingbird, Requiem for a Dream, and Shawshank Redemption. She just loves movies that make her feel something deep, even if it's uncomfortable. She's not a fan of Horror/thriller movies as they give her terrible nightmares. Her top three preoccupations in life when she's not filming on set are spending time with her family who she's very close with, working on self-growth and development, and staying active. Describing what it felt like shooting a scene for PureTaboo, Alina says that it definitely was a different experience than any other set she's ever been on. Not unlike her favorite movies, she loves watching things that make her feel a variety of emotions. She continues saying that having the opportunity to perform in something that falls in that same category emotionally was an awesome experience. Asked how she felt the nature of Pure Taboo will affect society, she feels that it's hard to say adding that she's always loved, been attracted to all the things that are "wrong" and unconventional but knows not everyone agrees with that outlook. Regardless of this, she loves everything she's seen Pure Taboo produce. Asked if she's ever been caught doing something taboo, she explains that everything sexual was taboo growing up and was caught masturbating many times throughout her upbringing.