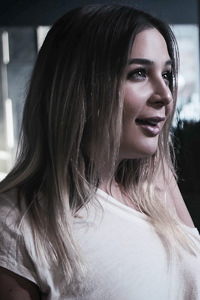 Blair Williams
Details
Height : 5'9"
Weight : 145
Eye Color : Hazel
Date of Birth : 1994-03-28
Zodiac : Aries
Hobbies : Yoga, listening to music, smoking weed
Twitter : https://twitter.com/blairsbananas
Blair Williams's Biography :
Blair Williams is an Aries that lives in Los Angeles, California. She grew up going to various religious private schools. She comes from a religious background; in fact, she worked as a church nursery school teacher prior to joining the adult industry. She was a prude as a teen and hoped to save her virginity for marriage... but she always wanted to be a whore for her husband. Her wildest non-sexual encounters were stripping into lingerie at a UCLA basketball game, and sending Ricky Schroder of "Silver Spoons" fame a revenge video of herself sucking his daughter's boyfriend's dick. He had tried to cheat on his girlfriend with her on multiple occasions. She also crashed her stepbrother's - a Baptist pastor's - wedding! Prior to joining the industry, she was a pre-med student on an academic scholarship at Point Loma Nazarene University. She got started in the business by coming across a competition that was intended to be an adult version of "America's Next Top Model." The show was called "The Sex Factor," and was hosted and judged by porn legends Asa Akira, Keiran Lee, Tori Black, Lexi Belle, and Remy LaCroix. She won the competition, and a hefty prize, along with an original and excellent platform for entry into the industry. Her favorite movie is Wicked Pictures' "The Preacher's Daughter" because of its theme and the natural and genuine chemistry between Mia Malkova and herself. As for mainstream movies, she loves "Clueless" and always related to its protagonist, Cher. She even drives a Jeep Wrangler like Cher did in the movie. She's not a fan of horror movies as they really freak her out. Regarding shooting a scene for Pure Taboo, she says she was very excited to play out taboo fantasies for the site. Asked about how the nature of Pure Taboo will affect society and its viewers, she believes PT allows the deepest and darkest fantasies of society to come to light. The first incident that comes to mind when asked if she's ever been caught doing something taboo, is that she once jerked off a stranger on a plane during a flight from Los Angeles to Miami. He came in the complimentary airline blanket, and they disposed of it and "cleaned up the mess" by rolling up the blanket and discarding it under the seat.