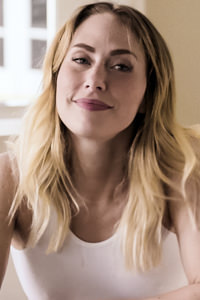 Carter Cruise
Details
Height : 5'4"
Weight : 125
Eye Color : Blue
Date of Birth : 1991-04-24
Zodiac : Taurus
Hobbies : Learning to be an adult and focusing on her career.
Twitter : https://twitter.com/CarterCruise
Carter Cruise's Biography :
Carter Cruise is a Taurus who grew up in North Carolina. She had a pretty normal childhood and describes her family as being pretty open-minded despite being traditional. They've always encouraged her to be open-minded to new experiences. She wasn't really promiscuous as a teen but had a lot of sex with her boyfriend that she dated for 4 years. After they broke up while she was in college, everything changed. She describes having a period when she went a little crazy because she was so used to having sex all the time and then suddenly didn't have a boyfriend. She describes her college years as everyone sleeping around and getting crazy with each other. She was 16 when she lost her virginity with her first boyfriend. She really wanted to have sex but also wanted her first time to be with someone she really cared about. Regarding her time before she entered the industry, she was in school in North Carolina but quit to do porn full time. She was really close to graduating but hated it. She got into the industry in a really random way. She always wanted to do something in the entertainment industry. When she went to college, she really wanted to go for acting lessons but her parents wouldn't pay for them. She would read Vice magazine and they had a whole section in there about porn stars. She ended up reading interviews with porn stars and was really impressed by their perspective on life and how intelligent they were. She ended up meeting this guy in North Carolina and he was trying to find girls to shoot. What a perfect match. And so her career as in porn began.