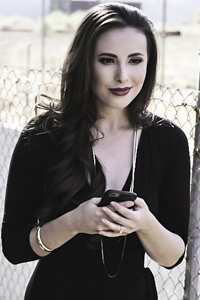 Casey Calvert
Details
Height : 5'4"
Weight : 110
Eye Color : Brown
Date of Birth : 1990-03-17
Zodiac : Pisces
Hobbies : Watching movies, rock climbing, knitting
Twitter : https://twitter.com/@caseycalvertxxx
Casey Calvert's Biography :
Casey Calvert, a Pisces, was born and raised in Gainesville, Florida. She grew up sheltered in an upper-middle-class family and came from a religious background, raised Jewish. She lost her virginity when she was 21 stating that she wanted to wait for the perfect circumstances. She was very prudish as a teen and says that she didn't even have her first kiss until she was 18. She describes her wildest non-sexual encounter as riding the tallest, fastest roller coaster in the world on two occasions. Prior to her work in the adult industry, she always wanted to make movies saying that she's now doing that, albeit, in a slightly different way. She got started in the business as a fetish model; this helped her explore her sexuality in a way that felt safe. She ended up loving it so after she graduated, she pursued a career in porn. A friend of hers was in the business at the time and sent her pictures to her now agent Mark Spiegler. She doesn't have a favorite movie and doesn't like horror/thriller movies because she doesn't like being scared at the theatre. Her three top preoccupations in life when she's not filming on set are her family which includes her pets, renovating her house, and trying to relax. She described shooting a scene for PureTaboo as "awesome" and felt she was making something that felt real. She feels Pure Taboo provides a healthy outlet for people with "unusual" fantasies. Adding that the scenes on the network will stick with the viewers long after they are finished cumming. Asked if she's ever been caught doing something taboo, she responded by pleading the fifth.