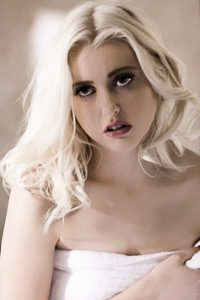 Chloe Cherry
Details
Height : 5'8"
Weight : 120
Eye Color : Blue
Date of Birth : 1997-08-23
Zodiac : Virgo
Hobbies : Art, taking pictures, being a vegan
Twitter : https://twitter.com/chloecherryxxx
Chloe Cherry's Biography :
Chloe Cherry, a Virgo, was born and raised in Philadelphia, PA in 1997. Growing up she passed the time by listening to Meek Mills. She lost her virginity in a tent experiencing both vaginal and anal intercourse. She was pretty wild as a teen but had sex with a select few boys she felt were deserving of her time. Prior to her work in the adult industry, she wanted to dismantle the current power structures of society. She got her start in the business by getting contacted by a porn scout through Instagram. Her favorite movie is 120 days of Sodom and has a love for horror and thriller movies. Outside of work, she enjoys an array of activities that include art, fashion and her relationship with her boyfriend. Feeling blessed to have shot a scene for PureTaboo, she describes her experience as "a lot of fun and very different" from the other work she's done. She feels that the content on PureTaboo could affect the viewer in a variety of ways depending on their interpretation. She's done something taboo but isn't ready to divulge just yet.