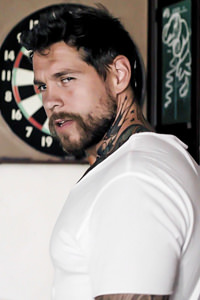 Dean Van Damme
Details
Height : 5'9"
Weight : 175
Eye Color : Blue
Date of Birth : 1978-12-11
Zodiac : Sagittarius
Hobbies : Strongman, weightlifting, running, walking
Twitter : https://twitter.com/DeanVanDammexxx
Dean Van Damme's Biography :
Despite claiming he's old and boring, Sagittarius Dean Van Damme is anything but. An avid weightlifter and runner, Dean was born in Kent, UK, and had a great upbringing on a farm before becoming a strength and conditioning coach. When he's not traveling, training or spending time with his family, he's shooting scenes as a key player in the adult industry, a career he got into when he met a girl online and she asked him to go to an audition with her. He initially thought it was a joke, but he soon found out it was no laughing matter and embarked on a career path that would eventually lead him to Pure Taboo. At heart though, he's a big kid, and that definitely shows in his choice of favorite movie: The Goonies. But while that may be the all-timer for Dean, his favorite genre is still horror. As a horror movie buff, he loves the storylines of Pure Taboo, which share some of the same adrenaline and excitement he appreciates so much in the genre. But to Dean, Pure Taboo isn't just about the excitement, it's also about pushing the boundaries of what's possible in a porn scene. As for whether he's ever been caught doing anything taboo? He plays things close to the chest on that one, saying that he hasn't since he's a self-described ninja. Well, just because you've never been caught doesn't mean you've never done anything taboo, right Dean?