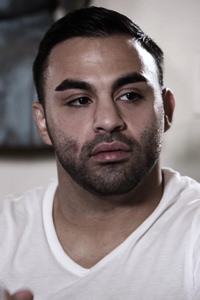 Derrick Ferrari's Biography :
Derrick Ferrari was born in Puerto Rico and raised in the United States. He currently resides in Los Angeles, California.
As an adolescent, Ferrari can't recall losing his virginity. "I went from prude to promiscuous real quick, that's how it all started." He even had sex in his high school building. His other wildest encounters include his first porn shoot and his first 3 way.
He's also gone sky diving, done professional boxing and gone to war with the marines.
Ferrari was a professional athlete in boxing and MMA before his foray in porn.
His biggest fear is picking himself up when he's down, "The times in life you get kicked down really hard and have to get back up, because I'm not one to stay down. Those are always scary."
Ferrari broke into the industry after he answered an online ad for Bang Bros looking for males in Miami.
if trapped on a deserted island, Ferrari would want a hammock, "if you pick the right one it can be very versatile. It can be used as a hammock, fishing net, bag to carry wood or other items." Item two would be a machete, "this can provide shelter and cut food, provide defense against animals." And finally, a solar powered satellite phone with military grade range, "I'd relax for a few days and then call for help."
Ferrari's a big fan of Adam Sandler movies. He loves horrors and thrillers, second only to comedies, "There aren't enough sick or brilliant minds to create many good ones."
When filming on set, Ferrari prefers doggy and reverse cowgirl, "I can put in some good in those angles."
On being recognized in public, Ferrari feels that people don't approach him as often as they would a mainstream actor. "I notice people act weird occasionally when I go out in public. That alerts me that they might have a clue about what I do."
Outside of work, fitness is his number one priority.
Ferrari was arrested once, "I was young okay, lol."