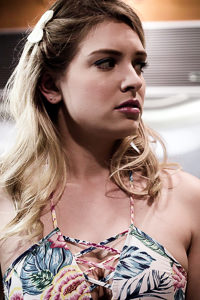 Giselle Palmer
Details
Height : 5'8"
Weight : 134
Eye Color : Blue
Date of Birth : 1995-07-02
Zodiac : Cancer
Hobbies : Video games, watching old movies, cooking, going to the gym
Twitter : https://twitter.com/gisellexpalmer
Giselle Palmer's Biography :
Giselle Palmer is an Aquarius who was born and raised in Houston, Texas. Having been in the business for only a couple of months, her first scene came out in February. She got her start in the business when she met some people from Naughty America at the AVN's. They shot her right away and after that, she got representation with Spiegler management. Since 18 years of age, she had an urge to do porn. She lost her virginity when she was 15 to a guy she was dating. They drove to a park to had sex in the back of his mom's car. Prior to joining the industry, Giselle described herself as a "huge nerd" who got straight A's and managed to finish high school in 3 years. Her favorite movies are Blue Velvet and Mulholland Drive by David Lynch. She's also a big fan of Jean-Luc Godard.