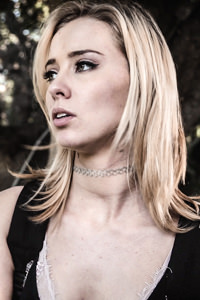 Haley Reed's Biography :
A magnet for mischief and adventure, blonde haired Haley Reed has always been a promiscuous girl. Reed precipitated the loss of her virginity by asking a boy at high school to have sex with her. They went to a park after class and fucked on a park bench in a playground.
Her wildest three escapades include an attempted 5some a party. The two guys couldn't get hard so it never happened, "Word to the wise, don't dick and drink." Another time she hitched a ride home from some strangers because she missed the bus. They stopped in an apartment complex on the way back, "I fucked three of them in the car. Porn script come to life!"
Reed describes the best sex she ever had, "We would fuck all day and do some nasty stuff. I was always letting him fuck my ass and we would tear through the house fucking everywhere. We broke an old wooden bed in the process. Sex goals right here."
For her three wildest non: sexual encounters, Reed threw two legendary parties in one week when she was 17 years old. Strangers still talk about them. She spent a week at a Rainbow Gathering where people come together with no religious, cultural, or racial association and form a strong community. There was so much love and everyone was there to take care of one another. She drove from Florida to California and camped along the way with a handy friend. If stranded on a deserted island, she would want a knife, a flint stone and a pot. Her biggest fear is dying. Favorite books The Things They Carried, All Quiet On The Western Front, and Man's Search For Meaning. Her favorite movie is Following.
She got her start in the industry after a history of exhibitionism. She wanted to be in porn films so she found a local agent and he started organizing shoots.
Her top three preoccupations in life are friends, family, music and cleaning. As for taboo preoccupations, she's been caught fucking, flashing her tits and pussy, peeing in public, and fucking in movie theaters and at parties, yet never arrested for public indecency, for which she is relieved.