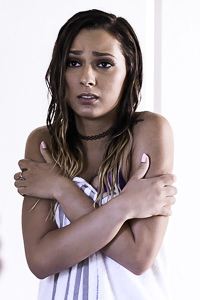 Jaye Summers
Details
Height : 5'6"
Weight : 115
Eye Color : Brown
Date of Birth : 1995-05-28
Zodiac : Gemini
Hobbies : Acting, singing, painting, drawing, and traveling
Twitter : https://twitter.com/jayesummersxo
Jaye Summers's Biography :
Jaye Summers was born in Tucson Arizona. She had a great childhood, with a religious background. However, she considered herself a tom boy as a kid, and spent lots of time playing and doing cool things in the desert. Jaye moved as a teen, and went from an athletic student to becoming super shy, until it was party time where she showed off her promiscuous side. In her younger days she hoped to sing or act. Her introduction to the industry came when she followed the exact footsteps of Carter Cruise. She still works with the same agent. Her favorite movie is The Great Gatsby, but she's a huge fan of horror/thriller genre. The suspense is its main attraction to her. We asked her what it was like shooting with us and she said: "It was incredible. The character I was portraying was highly stressed and anxious so it was cool tapping into those emotions. Also it's such a relief to be on set and have an actual acting role with interesting plots. The cliché roles that we get stuck into doing, are played out..." Jaye Summers believes that Pure Taboo will make an impact on porn industry saying "There's nothing out there like it!" She's never been caught because she's sneaky, but she's been in numerous taboo scenarios in real life.