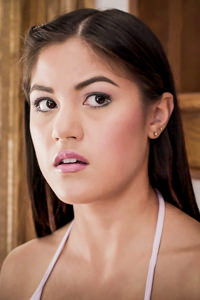 Kendra Spade
Details
Height : 5'4"
Weight : 120
Eye Color : Brown
Date of Birth : 1998-05-11
Zodiac : Taurus
Hobbies : I love to cook food and bake sweets and treats.
Twitter : https://twitter.com/kendraspade
Kendra Spade's Biography :
Kendra Spade was born in New Orleans, Louisiana and is a Taurus. She grew up in a really small town in Washington state where everyone there knows everyone's business. Many of her classmates had parents and grandparents that attended the same schools and as a result, struggled a lot with feeling like she wasn't special because her parents weren't from that town. She came from a Mormon family. Her mom is Filipino and was raised Catholic before converting to the Mormon religion. She was very promiscuous as a teen losing her virginity at a young age and as well as having anal sex. She recalls that in high school, she had in a bet with some of her friends to see how many guys she could fuck. In a weeks' time, she fucked 9 guys winning the bet by a large margin. Prior to joining the adult industry, her ultimate career goal was to become a lawyer and still aspires to become one one day. She got her start in the business by looking up ads on Craigslist. Becoming a porn actress was always in the back of her mind as she always loved watching porn, fucking boys, and girls. Her favorite movie is probably Lala Land because she has a soft spot for love stories and she loves that the two main characters don't end up together because she finds that so realistic. She has mixed feelings about watching horror/thriller movies because she's a self-described scaredy-cat. Her top three preoccupations in life when she's not on set are running a business selling almond butter in farmers markets, going for walks around her neighborhood with her dog and napping in the sun by the pool. She loved shooting with PureTaboo stating that the crew was really nice and pleasant to be around and had a fun time laughing and goofing around with them. She really enjoyed acting as well as she could really lose herself in the character which she found satisfying. Her hope is that Pure Taboo teaches society and the viewers that porn isn't just people fucking, it's actors performing a scenario that she feels is similar to the way actors perform in Hollywood. Asked if she's ever been caught doing something taboo she replies that she used to want sex so bad that her and her boyfriend would do it in really strange places. They would sit in the dining room of his house, with his grandparents in the room over, and she would give him hand jobs or blowjobs while they were pretending to study. They would take a walk in his neighborhood to the woods nearby and literally have sex on the ground. Sometimes, they would hang out on her couch downstairs while her parents were upstairs, and her boyfriend would fuck her in the ass and creampie in her.