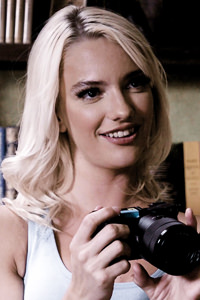 Kenna James
Details
Height : 5'8"
Weight : 125
Eye Color : Hazel
Date of Birth : 1995-01-16
Zodiac : Capricorn
Hobbies : Reading, Hiking, River Rafting
Twitter : https://twitter.com/kennajames21
Kenna James's Biography :
Kenna James was born Evansville, Indiana and is a Capricorn. She came from a Catholic background but is not religious. She was definitely a promiscuous teen growing up and loved it. Prior to her work in the adult industry, she wanted to be and still plans to become a veterinarian. She got her start in the business in a small syrup club in the Midwest before moving to web camming where she was later discovered by an agency. Her favorite movie is 10 things I hate about you because it's awesome. She enjoys the thriller genre but is not a big fan of horror movies. Her three top preoccupations in life when she's not on set are video games, reading, and sleeping. She really loved shooting for PureTaboo because to her, it's so much more then sex as it's more involved. She elaborates how she gets the opportunity to play a character and actually step into someone else's shoes. Regarding how she thinks the nature of Pure Taboo will affect society, she believes the industry is constantly evolving whereas quality, cinematography, acting and story all matter. Porn's free online all day long now, as a result of this performers have to do scenes that require substance to engage the audience. She believes Pure Taboo delivers that.