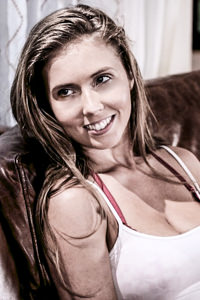 Lena Paul's Biography :
Lena Paul was born on October 12, 1993 in Florida, raised in Georgia and homeschooled throughout high school. After graduating early, she attended college at the University of Kentucky. Then she fell madly in love and followed the boy to Florida where she finished her Latin American studies. The relationship ended, and Paul pursued a career in sustainable agriculture.
Paul lost her virginity at age 19, with a long-time boyfriend, "We were both virgins who waited for religious reasons." As a teenager, Paul was prude but watched a lot of porn.
She credits a female college professor with helping her come to terms with her bisexuality. "Also, my history professor was so fucking gorgeous and played the cello, I had a shamelessly huge crush on her."
Her three wildest sexual encounters include a DP on the first date with a guy with his roommate, a foursome on a first date with another couple, and "fucking my college advisor and letting him dominate me."
Outside of the bedroom, Paul's wildest escapades include jumping off a small waterfall in the Amazon, "I skinned my whole thigh damn near off and had to leg it back to camp smelling of blood. Amazonian bugs are fucking huge, I still have scars from the bug bites." She also went road tripping through Mexico and Guatemala solo, "too many weird encounters to catalog." And Bike-riding naked 13 miles through downtown LA. Her biggest fear is home intruders.
Paul was an environmental entrepreneur before getting started in the business. "I was working in Central America in an environmental startup as a co-founder right out of college. Having no money but being creative, I started webcamming from my hotel rooms at night to pay my workers. When our startup failed, I got regular calls from porn agents and decided to give it a try to boost my blossoming cam career, but it took off for me far better!"
If trapped on a deserted island, Paul wants an aluminum canteen for boiling/carrying water, a machete to build a tent, open a coconut or fend off scavengers, and a tinder box, "fuck starting fires with sticks."
Her three favorite books of all time are House of Leaves by Mark Z. Danielewski, "this book is so hauntingly odd, it uses even the shapes and colors of paragraphs to tell hidden stories about the narrator's descent into madness. It's stuck with me for many years." Dune by Frank Herbert, "I heavily considered tattooing 'Fear is the Mind Killer' on the back of my neck, I was fascinated by the powerful sisterhood and female Fremen of the stories." And, The Handmaid's Tale by Margaret Atwood, "I'm a sucker for post-apocalyptic literature."
For her taste in film, Paul loves the Coen brothers, Christopher Nolan, old Hitchcock and Akira Kurosawa, "I'm a total movie buff."
Her top preoccupations off-set is her rescue Labrador, "Princess is a special needs dog, so I'm frequently fussing over her." She also loves PC gaming League of Legends, and Twitter.
Paul describes her parents as a May-December romance and still incredibly happy. "I've never even seen them speak a harsh word to each other, much less fight. They're deeply religious and raised me in the same faith, although I no longer prescribe to it. They have always been and continue to be my greatest cheerleaders in life, and respect that I work hard despite being a bit dumbfounded that I wound up in this career."
Paul has never been arrested. As for being caught doing something taboo, "besides gaping my asshole for the entire internet to see, I'm positive my real-life experiences pale in comparison to my professional ones. BUT for what it's worth, the guy I lost my virginity to? His mother lost her virginity to my dad -- and we both broke their hearts. For the record, we were not siblings, we checked! But it was all kinds of southern gothic soap opera fucked up, in retrospect."