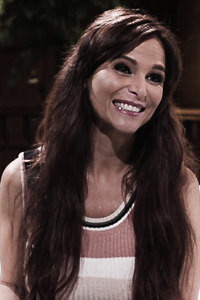 Syren De Mer
Details
Height : 5'6"
Weight : 135
Eye Color : Green
Date of Birth : 1969-06-24
Zodiac : Cancer
Hobbies : Taking care of her dream car, football, and video games.
Twitter : https://twitter.com/SyrenDeMerXXX
Syren De Mer's Biography :
Syren led a relatively normal life growing up in Bellingham, WA. Although she came from a religious background, she found a happy medium when it came to expressing her sexuality. As an adult, her desire to experience more took hold. She and her husband were swingers, and they hosted a couple of online groups as well. It was through these outlets that she was discovered by someone in the adult industry, which led to the career she enjoys today. When asked about her work with PureTaboo, Syren feels that viewers enjoy how PureTaboo "pushes the envelope." However, she cheekily insists that she's never been caught doing something taboo herself! In her downtime, Syren loves to spend quality time with her friends and family, and is passionate about cars. She also enjoys cute romance movies but revels in a good scare from horror films as well to get the blood really pumping.